24 March 2019 UK Chamber: International Women's Day: Women in Tech and Startups
Join us for our International Women's Day panel as we celebrate
the achievements of some of the phenomenal women in the tech and startup industry, and discuss the need to support greater diversity in the sector.
Thursday 14th March 2019
6:30PM – 8:30PM
Registration begins at 6:30PM for a 7:00PM start
Venue
Downer Room | Australia House | Strand | WC2B 4LA | Map
For security reasons, please bring photo I.D. for entry into Australia House. 
Australia-UK Chamber Members – Free
Guests & Non-members – £20
As technology continues to evolve, there is a greater call to action towards higher female representation in a sector which has become integral to our everyday lives. With leading women often the exception in tech and innovation, those at the top of the industry play a crucial role in highlighting the disparity and driving change.
Join us on Thursday 14th March as we hear from our inspirational speakers in the tech and startup industry on the importance of female driven startups and supporting greater diversity in the technology sector.
Speakers include:
Dr Susan Graham, Chief Executive Officer and Co-Founder, BioCarbon Engineering
Leanne Kemp, Chief Executive Officer and Founder, Everledger

Hanna Johnson, Chief Operating Officer, PUBLIC
More speakers to be announced!
Dr Susan Graham,
 Chief Executive Officer and Co-Founder
Dr Susan Graham is the Chief Executive Officer and Co-Founder of BioCarbon Engineering, leading a team to tackle global scale deforestation by restoring natural ecosystems. BioCarbon uses drones to plant trees and monitor biodiversity, scaling up the planting rates and improving ecosystem management.
Dr Graham graduated from the University of Oxford with a DPhil in Biomedical Engineering in 2015. Her work was spun out into OxSonics, a successfully funded drug delivery company based in Oxford. Dr Graham graduated from the University of Sydney with a Bachelor of Engineering and Bachelor of Medical Science.
For her work across research, startups and inspiring young women in tech, Susan was named on the Forbes 30 Under 30 list for industry in Europe in 2017.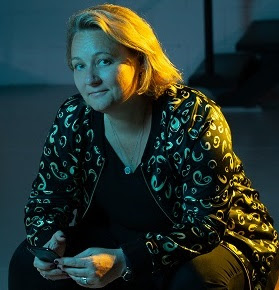 Leanne Kemp,
 Chief Executive Officer and Founder
Leanne Kemp is the Chief Executive Officer and Founder of Everledger. With extensive experience in emerging technology, business, jewellery and insurance, Leanne is pushing boundaries with Everledger, addressing real-world challenges through driving transparency and trust along global supply chains using emerging technology.
Her entrepreneurial success has led to her appointment as the Queensland Chief Entrepreneur for Australia in 2018, a role to further develop the startup ecosystem, attract investment and support job creation throughout the state of Queensland. She is the first female entrepreneur to hold this position.
Leanne is an appointed member of the World Economic Forum's Global Blockchain Business Council and a Co-Chair for the World Trade Board's Sustainable Trade Action Group. She is also on the IBM Blockchain Platform Board of Advisors.
In recognition of her leadership role in technology, Leanne has won multiple awards including Innovator of the Year 2018 at the Women in IT Awards (London) and the Advance Global Australian Awards 2018 for Technology Innovation.
Hanna Johnson, Chief Operating Officer, PUBLIC

Hanna Johnson is Chief Operating Officer for PUBLIC. Prior to PUBLIC, Hanna worked at 10 Downing Street, where she served as a Private Secretary to two Prime Minsters. She started her career in management consulting with Accenture and has more than a decade of experience spanning across technology, social impact and government.

PUBLIC brings together experience from the public sector, technology and finance to help startups solve public problems.